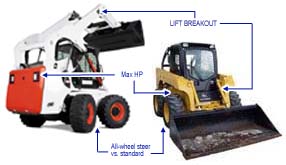 Compare skid steer loaders
Use this page to compare different models of skid steer loaders at DiggerData.com. The page allows comparisons between skid steer loaders, compact track loaders, and mini loaders. For addition detail, select the full report option to see all available data on the specific skid steer or track loader.
Only skid steer loaders currently in the database are listed. Contact me with any additions or corrections. Data is provided on an as-is basis. No warranty is expressed or implied as to the accuracy of the information. Readers should use at their own risk.
Always consult official manufactuer literature before operating or servicing skid steer loaders, compact track loaders, or any other equipment.
When comparing skid steer loaders, be aware that more options may be available than are displayed here. Many loaders will have optional counter-weights which will increase their tipping load, and therefore their operating capacity. Also, some skid steer loaders have optional upgrades to the hydraulic pump which will provide increased breakout force and lifting capacity.